Who We Helped
BioThane is an American, family-owned manufacturer of coated webbing and assemblies. These materials and products are used for a wide variety of markets, ranging from military and safety applications to dog collars.
Their Challenge
The BioThane website contains a lot of valuable information for users in need of coated webbing. The company offers a wider variety of products that differ in terms of size, look, hardness, durability, and flexibility. All these factors can make it tricky for a user to identify a specific product by a specific characteristic without a good site search. This search function also needs to be able to pull appropriate services pages, blog posts, and other pages that would be relevant to a user's queries.
Another issue was that BioThane was using Google Site Search, which will shut down April 1, 2018. BioThane wasn't interested in using the company's free site search that would potentially serve competitor ads on their site, so they needed to find an appropriate replacement without having to increase their search budget by too much.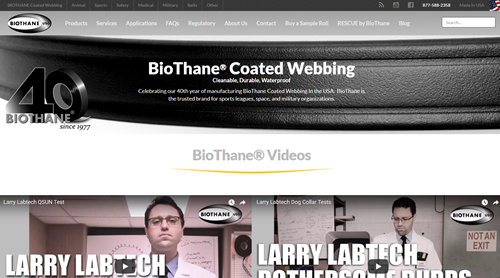 Our Solution
Fortunately for BioThane, Thunderstone has options for businesses trying to replace Google Site Search. We helped them change over to a hosted search appliance built on the Thunderstone Texis platform, which gave them a fully-integrated, full-text search foundation that provides their users the ability to get search results that are relevant to their initial queries. This new platform is also extremely flexible, so BioThane can implement new search functionality over time if the need arises. Also, they got all of this without having to break the bank for a replacement site search.
Improve Your Site Search
Are you in need of a Google Site Search replacement? Learn more about our search engine software and appliances and contact us today to talk to one of our experts about how we can help you.