When Google announced that their site search product would be completely discontinued by April 1, 2017, the news put a lot of businesses in a bind. Now businesses with Google Site Search will have until the end of their license to decide to switch to Google's free replacement option – Google Custom Search – or make the switch to a different site search product.
The easy switch to free Google Custom Search may be tempting, but there are serious drawbacks that may hurt your business or organization. Here are three reasons why you shouldn't opt for Google's free version of site search.
Google Custom Search Has Ads
Google Custom Search is free for a reason. This free site search is funded by the appearance of ads. This is a major problem.
The point of a site search is to allow your users to find relevant information on your site. Google Custom Search can do that, but not before it shows your users a bunch of related ads first. For example, we did a search for "seminars" on a site with Google Custom Search. Look at the results.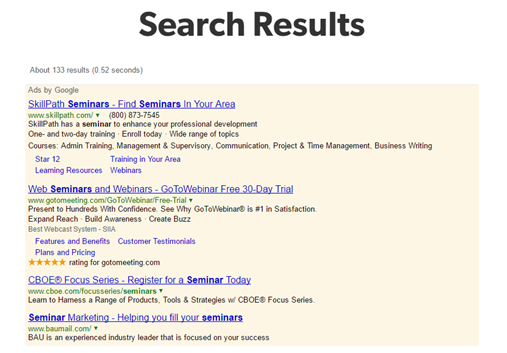 The first thing that pops up are links for seminars. The problem is that they're all for seminars on competitor sites. That's the last thing you want your users to see.
Thanks to ads, your users are essentially searching your site and the rest of the internet as well. In this case, the competitor ads even pushed the rest of the results down far enough that your users would have to scroll down to see them. That's if they haven't left your site by now to spend their money with your competitors.
We must note that you can make money off the appearance of these ads. However, will it ever be enough to cover the cost of a potential lost customer. Probably not.
You're at Google's Mercy
In addition to the issues with ads, you also have little control over how the rest of your search results. Google's search solutions use the Google algorithm to provide the results that you and your users see. That may not seem like an issue at first, but it might mean that you aren't getting the best search results possible.
While Google uses its own algorithm, other site search engines allow for customization. This allows you to configure what is crawled and how its crawled. This can provide a better searching experience for your users instead of settling on whatever Google wants to give you.
No Tech Support
With Google Site Search, you could contact Google's tech support for help in case you had any issues or questions. Free Google Custom Search doesn't offer tech support, so if you run into any problems, you're going to be on your own to figure them out.
Time to Find a Google Site Search Replacement
Whether you're on the fence about Google Custom Search or are considering another option, the truth is that time is ticking. Google Site Search will completely shut down April 1, 2018 and it's important to do your research on your options. You've spent plenty of hard work on your site, so you need to find a site search engine that will work the way you want, look the way you want, and keep your users on your site.
At Thunderstone, we can help you replace Google Site Search with a search solution designed for your specific needs. Contact us online or give us a call at 216-820-2200 to learn more about how we can help your site today.