Who We Helped
Chagrin Valley Soap & Salve, a family-owned manufacturer of all-natural soaps, shampoo bars, and skin care products in Northeast Ohio. While Chagrin Valley products can be found in several stores in Ohio, most people order their products online and have them shipped to their homes.
Their Challenge
Chagrin Valley was facing a pair of big changes. One, they were in the midst of a new website redesign. Two, the old Chagrin Valley site used Google Site Search, so they needed to find a replacement option since the company did not want to have ads for competitors' products displayed on their search feed. This new search solution needed to serve their specific needs so that their new website had a strong search function for all their online customers.
One of Chagrin Valley's challenges is that they have both a lot of product pages and educational pages on their site. In the past, Chagrin Valley customers would complain that some searches would not display the products they were searching for, making it difficult for users to buy what they wanted. However, both products and educational posts were very important to Chagrin Valley, so they needed a solution that would ensure that searches would always populate appropriate products in addition to blog posts and other pages.
Another key element of the project is that the new search solution had to be compatible with Umbraco, Chagrin Valley's content management system for their new site. Chagrin Valley had looked for some options but were having trouble finding a solution that would integrate seamlessly with Umbraco.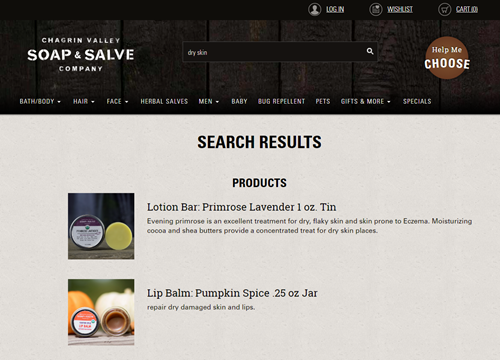 Our Solution
Since both products and educational pages were important to Chagrin Valley, Thunderstone configured its Parametric Search Appliance so there were two sets of search results for every query.
If a user searched for a product like adzuki bean soap or an issue like dry skin, the first listings he or she would see would be products most closely related to that search. However, Thunderstone added a second results field on the same page. This second bucket of search results is located below products and displays any related blog posts and other types pages related to the subject.
Chagrin Valley customers had also become accustomed to seeing images of each product in the search results, and the Thunderstone Parametric Search Appliance ensures that each result is displayed with an image and a description of each product, allowing users to find exactly which products they're looking for.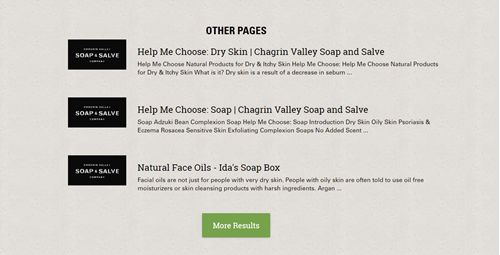 What Happened
Thunderstone worked with Chagrin Valley to set up their search solution in time for the launch of their new website. This particular project only took a couple of days to set up, as the Parametric Search Appliance easily integrated with Chagrin Valley's Umbraco CMS. So far, customers have been able to easily find what they need on the new site through the search function.
Chagrin Valley is just one of many businesses who have benefited from Thunderstone search solutions. Learn more about our search engine software and appliances and contact us today to talk to one of our experts about Thunderstone can help you.