Who We Helped
Aztek is a Cleveland-based web design, development, and digital marketing agency with several clients in need of new search software and hardware products.
Their Challenge
As an agency, Aztek works with multiple clients. Each of these clients have different search needs, ranging from basic site keyword search to complicated ecommerce or other custom database solutions. That meant that Aztek needed a partner that was flexible enough to provide search solutions designed for different clients and platforms.
Another key was that these solutions needed to meet each individual client's expectations and be cost effective. Through Thunderstone, Aztek could achieve these goals and save themselves from having to identify and work with multiple search solution vendors or take on that responsibility themselves.
Our Solution
The short answer is simple; we provided Aztek's customers with the wide range of quality search solutions that we're known for. For example, we used Parametric Search Appliance because it has all the everything that 95 percent of clients would need in a search solution, whereas Texis is used where fully-customized solutions are needed.
Since each client is different, we developed a template to determine a client's search needs and simplify the implementation process. This process identifies the site, applicable domains, and how the results need to be organized. These details allow us to follow up with any additional questions and determine an appropriate solution. Aztek also doesn't have to worry about compatibility issues because our search software and hardware works with most major CMS platforms their clients use, such as Umbraco, nopCommerce, WordPress, and many others.
Another key part of our solution is hosting and managing the search solution so that Aztek doesn't have to deal with recreating, reindexing, and rehousing all their clients' search data. Instead, they receive the final search results directly from us. Aztek also doesn't have to maintain another server or deal with unfamiliar technology, which is one less thing for them to worry about.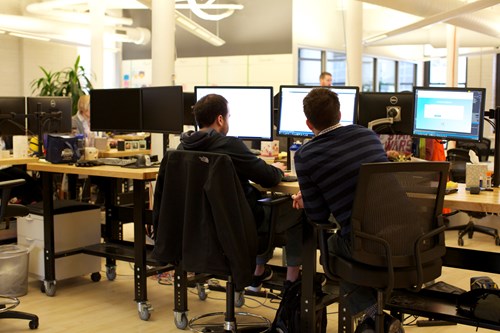 What Happened
Since the partnership began, Thunderstone has helped several of Aztek's clients, with many more projects currently in process or planned for the future. This has led to clients receiving everything from a new hosted search appliance to a current project involving an extensive database of old catalogs.
Another big advantage of the partnership for Aztek is how it frees them from the responsibility of having to deal with new technology. With Thunderstone, Aztek doesn't have to worry if software is being updated or who to turn to if there's an issue. They can share any concerns with us and we can work with them to fix problems or work through new client scenarios. We don't just supply them with a solution; we work with them to ensure that their clients' needs are met long after initial implementation.
What Aztek Says About Us
"There's no 'it is what it is' with Thunderstone. Some of the other search solutions we looked at had issues indexing PDFs or issues due to outdated technology, or platform compatibility problems. Working with developers who aren't familiar with the intricacies of many platforms or who don't actively update software can be challenging. With Thunderstone, it's the complete opposite end of the spectrum. We have someone who we can work with, share concerns with, make customizations and is completely invested in the success of our work." – Keith Rowe, Chief Technology Officer
Work with Us Today
If your company needs proven search solutions for you or your clients, we can help. Learn more about our search engine software and appliances and contact us today to talk to one of our experts about what we can do for your business.