What Educational Institutions Need from a Search Solution
Schools can have some very specific issues that make it difficult to find the right search solution for their websites. To start, educational institutions typically require a solution that can handle an assortment of different sites, including an organization-wide site with marketing materials, course catalogs, and staff directories.
In addition, each department may have its own site, such as a school of medicine, athletics, and an alumni association. Each of those sites may be managed by different people or have a different structure or needs, which would require a search solution that is powerful and flexible enough to accommodate every site.
Our search software and hardware come with several features that increase the accuracy of your search results and simplify the search process for students, educators, and anyone else who uses your search functions.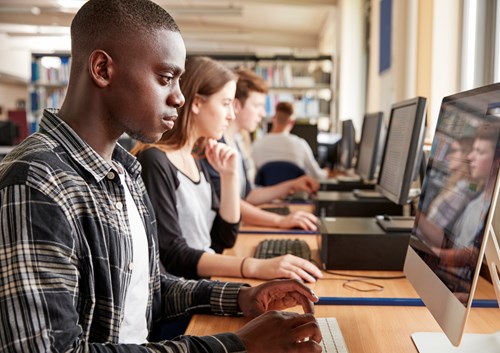 ---
Search Capabilities
Result rankings – Educational institutions can have several different sites. Our search solutions allow you to rearrange content by relevance so that users receive better results when they use the search function on specific department's site.
Weighted results – Certain pages are more important to you than others. We allow you to promote higher priority pages so that they appear higher up in your users' search results.
Autocomplete – Our search solutions anticipate your users' intent and offer suggestions to save them time and help them find what they need.
Spellcheck – No typo should slow down your users. Our search sifts through spelling errors or other typos to deliver quality results.
Synonym check – Your students or faculty won't always remember the right words. Our customizable thesaurus allows our search to parse queries and deliver good results when people use similar, but different, wording.
Added filters – Make it easier for your students and faculty to find what they need. We can add specific filters that help your users narrow down their search results.
Multiple file types – Users need to be able to find more than just site pages. Our search solutions can index PDFs, JavaScript, Flash/Shockwave, and links to ensure all website content is covered.
High-performance – An educational institution can amass a massive number of files. We can provide search solutions that handle anywhere from 20,000 documents to tens of millions of documents in a single device.
Customer Service and Resources
Your new search solution shouldn't make life more difficult for your IT staff. We work with you to make the implementation process quick and easy, as well as provide assistance long after your solution is installed. When you choose Thunderstone, you also gain access to our team of experts and several online search resources.
Product manuals – We keep manuals and other useful information right on our site. These include our search appliance manual, a helpful guide on search interfaces, an admin area with info about our Webinator index system, and additional Webinator extras and scripts.
Developer resources – We also provide resources for developers who would rather fix things themselves. These include code examples, manuals, tutorials, and a quick reference guide.
Message board – If you have a problem, we've likely solved it for one of our other clients. We maintain a message board for all our clients, so you can search through there to see what they have to say about Thunderstone.
Tech support – If you can't find what you need, we're here to help. You can call one of our experts between 10 a.m. and 6 p.m. Monday through Friday or submit a technical support quest at any time to receive help from one of our staff.
---
Case Studies & Whitepapers

After decades of amassing medical articles, JMI's collection had grown to roughly five million physical pages, which filled more than 165 cabinets. As JMI began to digitize its collection, it was apparent that a flexible data management system that specialized for storage and searching was necessary.

The Native American Cultural and Historical Institute (NAI) and Mnemotrix Systems, Inc. created a Heritage Education online database with sophisticated User Group features and Concept Search capabilities powered by Thunderstone's TEXIS.

Thunderstone's Webinator indexing and retrieval software enabled The Center for Russian & East European Studies to create a collection that includes searchable online documents from many top U.S. researchers and analysts in an efficient and affordable manner.

Editors at Lincoln Library Press, Inc. created an online version of everything contained in the multi-volume hardback books their publishing company sells to school libraries. After considering Google and a couple of other potential options, they started with a Thunderstone Search Appliance -- but they ultimately decided it made the most sense to have Thunderstone Data Services host their search solution.