Google has discontinued their Search Appliance, meaning current GSA customers need to find a replacement once license renewals end in 2018. Thunderstone offers a Google Search Appliance alternative that can do more than just replace your outgoing search technology.
Thunderstone provides a pair of Google alternatives: a plug-and-play Search Appliance and a more customizable Parametric Search Appliance. Both options can handle anything from 20,000 to tens of millions of records and are backed by Thunderstone's unmatched tech support.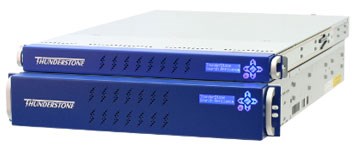 Search Appliance
A plug-and-play enterprise search engine or virtual machine that comes pre-configured so that you users can begin searching as soon as you connect it and set the controls.
Unlimited collections provide separate searches for different data sources.

Fast response with the ability to handle 20-plus queries per second, more than enough for peak times.

Crawls any number of web servers by combining all content needed into one or more collections.

Indexes PDFs, JavaScript and Flash/Shockwave content and links to ensure all website content is indexed.
Parametric Search Appliance
The Parametric Search Appliance has all the features of our standard appliance, plus special parametric features that deliver the flexibility and power of a fully-integrated SQL regional database.
Easy-to-customize interface, providing excellent user experience with less time and effort.

Unlimited collections allow for the creation of multiple independent search collections, each with their own data types, fields, attributes, or parameters.
Search by geography or location.
Optimize "findability" by specifying how the appliance should sort and/or group the query results, which is done efficiently using our full-featured SQL RDMBS software technology.
Thunderstone's search solutions allow you to choose a GSA replacement that will fit your soon-to-be Google-shaped hole, or further customize your search capabilities to improve your searching capabilities with a search appliance that delivers the power and flexibility of a fully-integrated SQL regional database.
Both Thunderstone search products are tailored to fit your specific needs helps your users search to following:
Files
Documents
Databases (SQL)
Intranet
Knowledge Base
Demo Thunderstone Search Appliance
Discover why Thunderstone is an ideal replacement for Google Search Appliance. Demo the software today: